10 Great Reasons to Choose Solumbra
Doctor Recommended.

Thousands of doctors have recommended Solumbra.

All Day Protection.

Solumbra offers all-day 100+ SPF protection against dangerous UV rays.

Sun Smart Design.

No design detail is overlooked when it comes to protecting you from sun damage.

Broad Spectrum

Solumbra offers true UVA/UVB protection, blocking greater than 98% of UV rays.

Soft and Comfortable.

Solumbra feels as soft and light as silk. Solumbra fabric wicks away moisture and perspiration.
UV Protection that Lasts.

Solumbra offers greater than 100+ SPF even after 500 launderings, 500 simulated days of sun exposure.

Easy Care.

Cool wash, line dry, and it's ready to go.

Ventilated.

Many Solumbra items have ventilating mesh to circulate cooling air around you.

Travel Friendly.

Solumbra is easy to pack and lightweight.

Sewn in Seattle, USA.

We make almost all our products right here in our factory.*
*The six products we don't make in our Seattle, USA factory are our straw hats, parasols and gloves.
Solumbra vs. Sunscreen
Which would you choose?
Solumbra and
4 dollops of sunscreen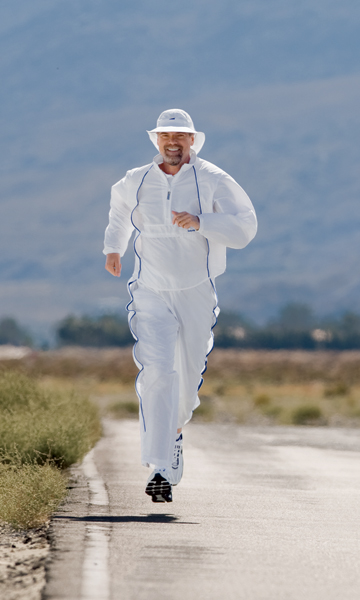 Running shorts and
44 dollops of sunscreen