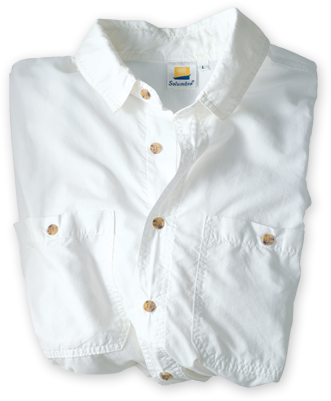 If we told you this shirt offered
100+ SPF, we wouldn't be lying…
because it offered 102 SPF after
500 durability cycles!
To evaluate Solumbra's 100+ SPF protection, we subjected this shirt and others to the rigors of 500 durability cycles. We laundered them 500 times, snipped out fabric samples, and exposed them to the equivalent of 500 days of UV rays. Even after that abuse, Solumbra samples provided greater than 102 SPF protection. We're not surprised. Solumbra's 100+ SPF sun protection is mechanically built right into our patented Solumbra fabric, instead of a coating or treatment that can wash off or wear off over time. We engineered Solumbra to provide long-lasting UV protection.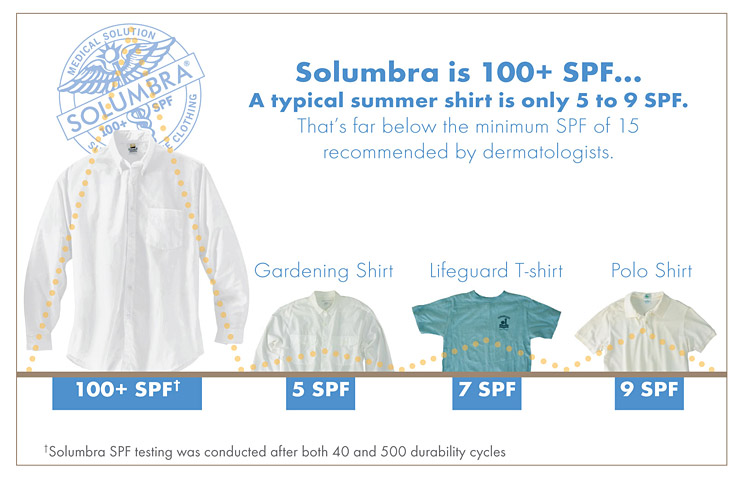 Other shirts may leave you sunburned.
A typical summer shirt, by comparison, only provides an SPF of 5 to 9, far below the minimum SPF of 30 recommended by dermatologists. Not to mention it's usually short sleeved and has little or no collar, leaving your arms and neck dangerously exposed.
We put Solumbra to the test.
Again and again. As a medical solution, we take our safety and efficacy very seriously. Every batch of Solumbra fabric is tested to ensure that it has a 100+ SPF rating.
In addition, Shaun Hughes, president of Sun Precautions, is so committed to quality that he spearheads product safety. A patchwork quilt from each batch of fabric is attached to his back and then the fabric is subjected to 101 sunburn doses of UV—more than all-day sun exposure in the sunniest place in the world.
But it's not over yet. Before any product is available for sale, it must also pass a rigorous 27-point quality assurance check and a 15-point quality control check.